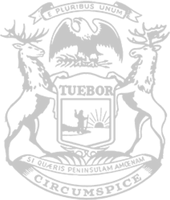 Rep. Wentworth: County-level data should drive decision-making through remainder of COVID-19 pandemic
Rep. Jason Wentworth and a group of House Republican lawmakers today announced a plan giving the people of Michigan more certainty and control – allowing for data-driven COVID-19 responses that reflect conditions in local communities.
The plan relies on science-based, county-level data to guide decisions to keep people healthy and determine appropriate COVID-19 restrictions.
"Over the past seven months, the state's COVID-19 response has been reserved for a party of one," Wentworth said. "Without a voice or a seat at the table, the people of Michigan had no say in the decisions being made that directly impacted their lives and livelihoods. Now that the Michigan Supreme Court has ruled and confirmed that the state's COVID-19 response needs to be a collaborative effort, we are returning power where power is due – Michigan residents. By empowering people, following county-level data and emphasizing local control, Michigan communities will have a safe, sensible and tailored response to the virus as we all move forward."
When the data supports it, local public health experts will have the option to modify their COVID-19 policies at the county-level – potentially loosening state limits on gathering sizes, restaurant capacity and other measures that would remain in place in other counties. Health thresholds allowing local decision-making would be based on five clear scientific metrics:
Case rate. The number of confirmed cases over a 14-day period is below 55 cases per 1 million people.
Positivity rate. The rate of positive tests over a 14-day period must be below 5 percent (excluding state and federal inmates).
Sufficient hospital bed capacity. Hospitals must be able to handle a 20 percent surge in admissions or patient transfers, and they must be below a 25 percent hospitalization increase in the previous 14 days.
Sufficient PPE supply. Local hospitals must have at least a two-week supply of personal protective equipment on hand.
Ability to test for COVID-19. Counties must be able to test 15 people per 10,000 residents per day, and turn around test results in three days or less.
If the data later indicates a county has risen above these COVID metrics, intervention strategies would go into effect for stronger state control.
Wentworth said the plan was put together by looking to best practices in other states in consultation with Michigan medical and science professionals, several of whom joined members to express support for the goals of the proposal and a willingness to work together on further refinements as it moves through the legislative process.  Among those in attendance were Brian Long, President/CEO of Memorial Healthcare in Owosso, and Dr. Justin Grill, Chief Medical Officer of Mercy Health Muskegon.
Photo Information: Rep. Jason Wentworth (right) listens as Dr. Justin Grill, Chief Medical Officer of Mercy Health Muskegon addresses the media at a press conference event where a group of House Republican lawmakers unveiled their COVID-19 response plan on Tuesday.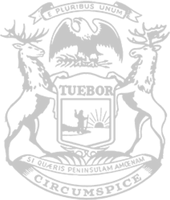 © 2009 - 2021 Michigan House Republicans. All Rights Reserved.
This site is protected by reCAPTCHA and the Google Privacy Policy and Terms of Service apply.